Roof Restoration Coating: The Best Way To Restore Your Roof
When it comes to the restoration process of your roof, there are actually various ways for you to do it and one of which is through coating. Roof coating not only entails a simple task of restoring your roof but it is also a proactive and cost-effective way to maintain and enhance the overall looks of your property. As a matter of fact, when you get your roof restored through a coating method, it will provide you with a great deal of benefits. A well-coated roof can simply give you the benefits of having a roof system that's brand new.
"Finally a Roofing Solution that pays for itself"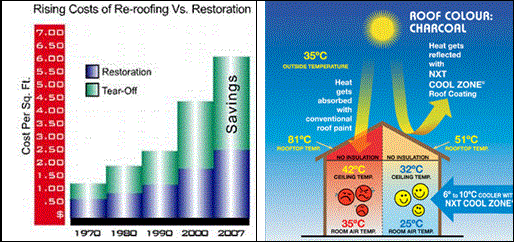 The following are some of the essential benefits you can get from roof restoration coating:
With roof coating restoration, you are on your way to save lots of money compared to total replacement. In fact, this method can save you as much as fifty percent worth of savings.
It is also effective enough in providing you great savings in terms of your monthly electric bill. Roof coating allows the heat to reflect for up to ninety percent.
It helps you save much on repair or replacement cost for your air conditioning equipment.
Get the opportunity to extend the life of your existing roof for up to twenty years.
Get money from government tax deduction up to 100% & local municipal utility rebates
Don't rip and replace your old roof – Repair and Restore instead!
The truth is that you can simply rely on roof coating restoration system compared to the roof coatings found on roof tiles being sold in the market these days. You can get extensive advantages from a thorough roofing system which includes vapor barrier that makes use of tar paper to do the process and flashings. Both are known to come up with updated procedures and techniques to surpass any kind of municipal building code requirements.
By availing our services, you are assured that your roof will not only be restored the way it should but you are also assured that you'll get a roof that's better than new. What's even better is can have all this for less than the cost of replacing your existing roofing system.

Keep in mind that it's essential to have a careful plan when it comes to restoring your roof. Excellent craftsmanship and quality materials are also important factors to consider in order to insure a successful outcome. Our happy customers and clients are proof that we are the best when it comes to such restoration procedures.
Assessment of your roof will be done by our expert and professional roof inspectors so as to help you pinpoint problems and what solution is best for it. With us, you will know what options you should have: to repair, to restore, or to replace.
We will make you aware of all your options:
Repair (least expensive, but usually not very attractive)
Restore (best all around value, but not always possible)
Replace (usually most expensive and sometimes necessary)
Call TODAY! (512) 201-2987 for a no obligation hassle-free price quote.
Roof Cleaning Orlando – exterior pressure washing services in Orlando – Central Florida areas visit  http://cflpressurewashing.com/roof-cleaning-orlando.  roof painting Palm Beach  Roof Sealing Palm Beach
Palm Beach Roof Cleaning – exterior pressure washing services in Palm Beach County – South Florida.